Louisiana Senatorial Debate
October 18, 2016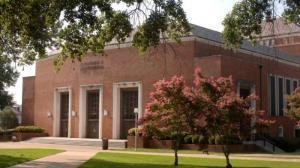 Louisiana Public Broadcasting (LPB) and the Council for a Better Louisiana (CABL) are hosting a live senatorial debate at Louisiana Tech University at 7:00 p.m. on Tuesday, October 18 in the Howard Center for the Performing Arts. This debate will be televised to a statewide audience and will feature the five leading candidates to represent the State of Louisiana in the U.S. Senate.
LPB and CABL would like to invite students, faculty, and staff to join them in Howard Auditorium for this important event. If you would like to attend the debate, please email waggonnercenter@latech.edu no later than Friday, October 14. There are a limited number of seats available for this event and will be awarded on a first-come, first-serve basis. For those unable to attend the debate in Howard, there will also be an opportunity to view the debate live via video, with moderators, in Wyly Auditorium.
If you have any questions or need more information, please contact Dr. Jeremy Mhire at jmhire@latech.edu.